Join us in lovely Lake Park, high atop the wooded bluffs overlooking Lake Michigan, for game of croquet on a manicured green using tournament-quality equipment.
We play doubles croquet (2 vs 2) on Tuesday, Wednesday, and Thursday nights (pick your favorite night for one game per week; you don't have to commit to three nights per week!). Sometimes we play singles croquet (two player play head to head, each one playing two balls). We have periodic weekend events (including orientation clinics for beginners), especially on Saturday mornings.
Our regularly scheduled games for the summer series begin in June and run through August, then we begin our autumn series of Fall Ball. The autumn series is great entry point for folks who join our club when the summer leagues are already in full swing. The season is punctuated by a parade of parties, clinics, tournaments, and more. The Milwaukee Croquet Club will be hopping this summer, so jump on in!
A few of us know what we're doing, but most of us are fairly new to the game and simply enjoy getting outdoors for some low-impact and low-stress competition and camaraderie.
Stop by the lawn bowling clubhouse with the green and white awning next to Lake Park Bistro for some genteel croquet fun! We'll get you out on the green, show you how to swing a mallet, and have you running wickets in no time. You should wear flat-soled shoes to protect the lawns (no heels, please) and white or light colors, as you don't want to feel out of place in your tie-dye romper.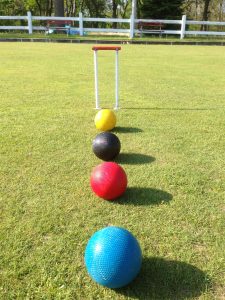 Our Tuesday night league series is scheduled to start June 9, the Wednesday league begins one day later on June 10, and (you guessed it) the Thursday night league series starts exactly one day after that, on June 11. While croquet is not a contact sport and can be safely played in accordance with prudent social distancing principles, we will re-evaluate our intended schedule in early June based on the best scientific evidence available at that time.
If you'd like to sign up for the summer or fall league series, send an e-mail to info@milwaukeecroquet.org and we'll send you a sign-up form and some more general information. The sign-up deadline for the summer leagues is May 20, so be sure to get your sign-up form in right away to avoid missing out on the most fun in Milwaukee!
If you miss the sign-up for the leagues, you can still sign up to play social pickup games, play as an substitute when others are on vacation, and attend special events, clinics, and parties. And don't abandon hope for league play: Fall Ball starts in late August or early September, so you still have lots of time before the Fall Ball sign-up deadline!
In the meantime, please stop by and check us out in action during our 60-minute matches that start at 5:00, 6:00, 7:00 and 8:00 p.m. You'll see some of the most exciting croquet action in the state, and there will be members on hand to answer questions and, if time allows, maybe even get you out on the green for a wicket or two.
Better yet, you are invited to our alternating Friday night parties for food and drink, an introduction to the game, and some fun pick up games. Swing by at 5:45 p.m. on these Friday nights to meet some friendly folks, eat some snacks, enjoy some beverages, play a bit of croquet in a casual setting, and then enjoy a dinner of sandwiches or pizza before playing some more or pouring another glass of wine. The parties are included in our members' dues, but we ask visitors for a $5 donation per person. Membership has its privileges, so sign up now to enjoy the parties!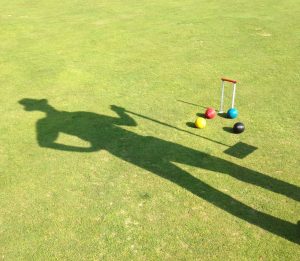 Our party schedule is temporarily delayed by the global pandemic! Check back for updates once relaxation of self-distancing guidelines permits us to eat, drink, and play croquet in close proximity!
If you can't make it to the Tuesday, Wednesday, or Thursday night events and somehow miss the Friday night parties, please call or write us with any questions and to get more details about the game and our club.
This summer, don't be a sticky wicket; get off the sideline and onto the green!
Drew Kennedy
info@milwaukeecroquet.org