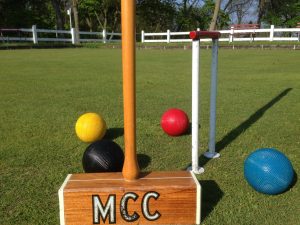 Join us in lovely Lake Park, high atop the wooded bluffs overlooking Lake Michigan, for game of croquet on a manicured green using tournament-quality equipment.
We play croquet Tuesday nights, Thursday nights, and occasionally on the weekends from late May through early August. A few of us know what we're doing, but most of us are fairly new to the game and simply enjoy getting outdoors for some low-impact and low-stress competition and camaraderie.
Stop by the lawn bowling clubhouse with the green and white awning next to Lake Park Bistro for some genteel croquet fun! We'll get you out on the green, show you how to swing a mallet, and have you running wickets in no time.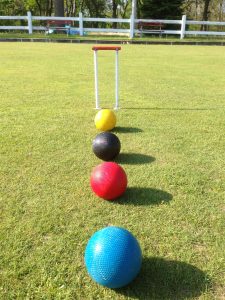 We are opening the season on Sunday, May 20, at noon, with a special Opening Day social event. We'll have refreshments, instruction for newcomers, and plenty of friendly games. This is a great opportunity to get a taste of the game, and then to sign up for a season of social play, competitive play, or both! Contact Nels as listed below for a packet of information regarding this season's upcoming events and a sign-up sheet. Membership has its privileges, including a wonderful summer of good games and fun socials with good and interesting people (like you)!
Our Tuesday night league series starts June 12 and the Thursday night league series starts (you guessed it) exactly two days later, on June 14. You can stop by and check us out in action during our 60-minute matches that start at 6:00, 7:00, and 8:00 p.m. You'll see some of the most exciting croquet action in the state, and there will be members on hand to answer questions. If time allows, we may even get you out on the green for a wicket or two.
Better yet, you are invited to swing by on the second and fourth Fridays for our Friday night parties for food and drink, an introduction to the game, and some fun pick up games. We request that you bring $5 to help cover the cost of the party. You should also wear white or light colors, as most of the regular members will be in white and you don't want to feel out of place in your tie-dye romper. Here's the schedule of the Friday parties (festivities begin around 5:45 p.m.):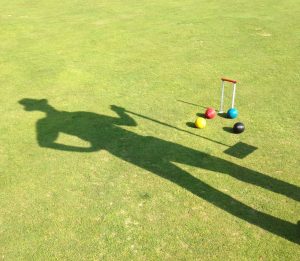 June 8
June 22
July 13
July 27
August 10
August 24
If you can't make it to the Tuesday or Thursday night events and somehow miss the Friday night parties, please call or write us with any questions and to get more details about the game and our club.
This summer, don't be a sticky wicket; get off the sideline and on to the green!
Nels Bjorkquist
info@milwaukeecroquet.org
414-3 seven 9-8973